Posted on
By Denise Potter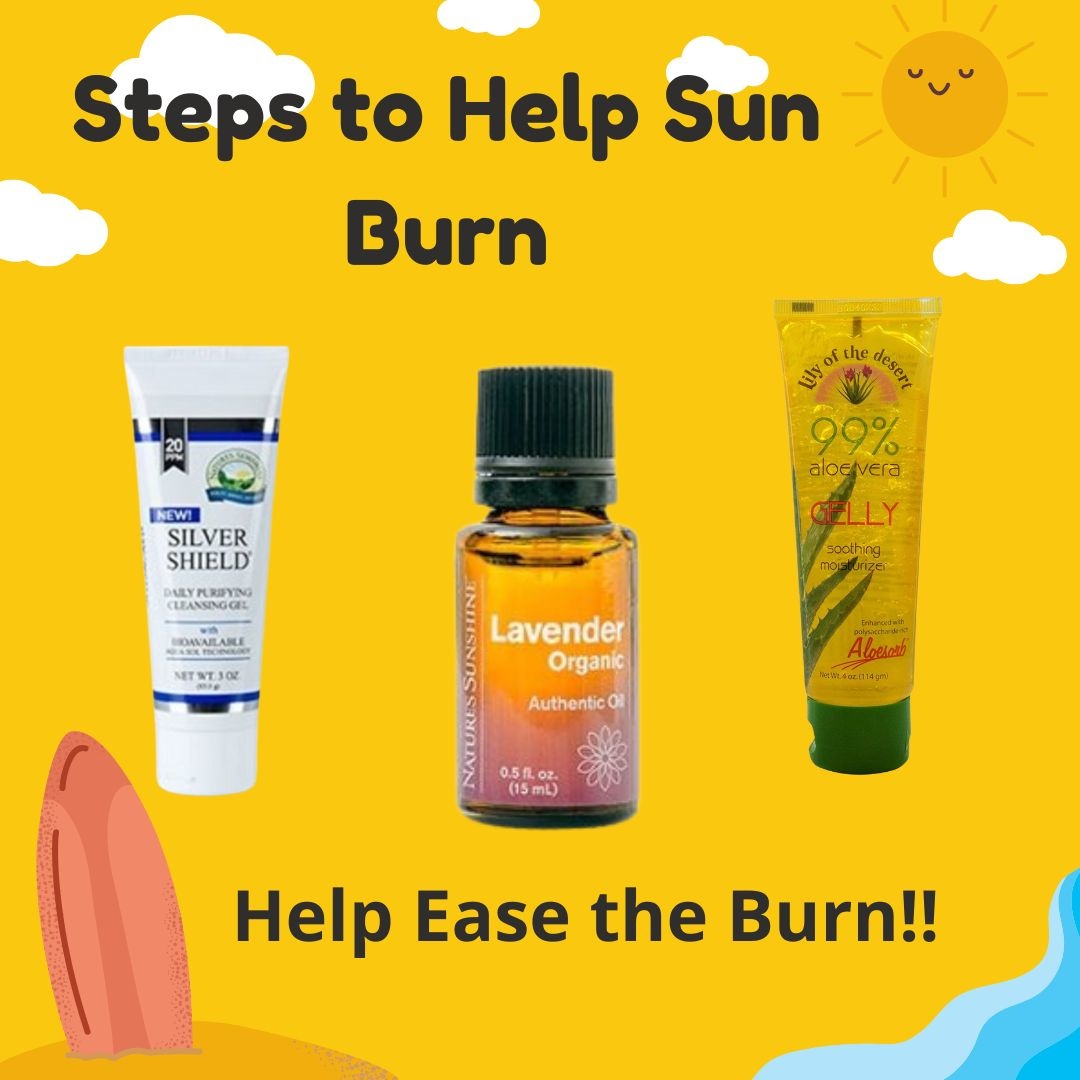 Ahh summer…. the warm sun on the skin, the gentle breeze against the face, there really is nothing like it. It feels so good to be outside when the weather warms up. Especially after dealing with months of minimal sun exposure. Being outside in the summertime is fantastic for overall health and wellbeing! However, all things must be kept in moderation, even sunlight. 
When there has been too much sun exposure at a single interval, we run the risk of sunburn. For most people, a little sunburn is not generally a big issue. The skin becomes red and tender to the touch for a couple of days, then settles down and leaves a nice glowing tan. Sometimes though, the sun exposure can be too much too quickly and can lead to burns that are so severe that blisters appear! This can be rather painful for several days.
Many people these days are choosing to avoid the use of sunscreen to minimize their contact with chemicals that have the potential to lead to major health concerns. So what do they do to protect themselves from the burn? Moderation is key, begin by spending a couple of hours in the sun in the beginning of the season before the intense heat builds up. The body will be able to adapt to the heightened sun exposure and will prevent damaging burns as the days get longer and hotter. Other people choose to opt for a mineral based, or more natural sunscreen that doesn't have the toxic chemicals.
This is great advice to follow, but is not practical for everyone. Life is busy and a lot of people don't have the option to build up a gentle base tan as the seasons progress, and are more likely to get burned when they finally have a day to be out in the elements. When this happens, the discomfort of reddened skin can be very bothersome, especially with little ones or those who have sensitive skin. Thankfully, there are many options that have been used for thousands of years to help relieve the irritating skin burn.
Aloe Vera Gel. This is a great option to help quickly cool the burn and soothe the red, irritated skin. Apply liberally to the affected area several times daily for relief.

Lavender essential oil. Known as the universal oil, lavender seems to be good for just about everything! It is famously known for its effects on the skin to soothe burns and even help reduce the appearance of scars! Dilute this oil with coconut oil, or aloe vera gel on sensitive skin and gently massage into the affected area several times daily.

Calendula cream or salve. Calendula, also known as common Marigold, is a phenomenal remedy for soothing irritated skin. This herb, often found in salves or creams, can offer instant relief to inflamed skin.

Cantharis homeopathic. This homeopathic remedy is great for all types of burns, including sunburn! Simply take 2-3 pellets under the tongue 3 times daily until the skin is healed and no longer painful.

Silver Shield gel. This colloidal silver gel is a great item to have in your natural first aid kit. This gel can be applied topically to rashes, burns, scrapes, or other skin irritations to quickly calm the inflammation and heal the skin.
With these tools in the toolbox, there is no need to fear the heat of the sun! Of course, always be sure to stay hydrated in the heat with coconut water or good quality plain water. Limit over exposure when possible to avoid damaging burns, and have fun in the summer sun!